4 tags
Princess Culture
I am in between Peggy Orenstein's generation and her daughter's. My peer group wasn't inundated with pre-chewed princess pap in quite the same way girls are now, but we've had to work through (or neglect to work through) some pretty hefty entitlement issues and god damn do some of my lady friends love their pink. Aside from being an easy to read and thoughtful discussion...
6 tags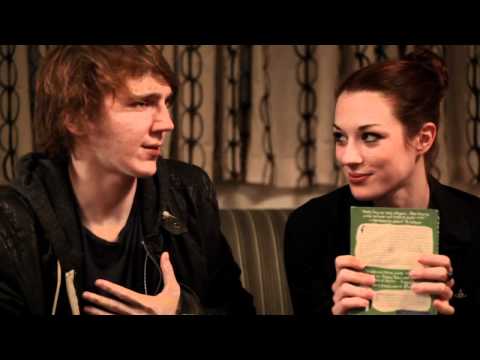 3 tags
I had a few minutes...
so I looked at the internet. Not the girlswithslingshots.com/questionablecontent.net internet. Not the Gawker media internet. The stuff people say about me internet. I try to avoid that. I think it's unhealthy. I tend to let the judgements, good and bad, that people spout when they think they're talking behind my back or about someone who isn't a real person roll around in my...
7 tags
The Trip Home
Somehow we've gotten everything on my list done in time to take the subway home. I'm torn between feeling satisfied by the efficiency and feeling lame because we'll be in bed before one am. I'm also drunk. Breakfast was a long time ago, women have a lower alcohol tolerance than men (they've done scientific studies), and I've been keeping up with Matt...
6 tags
How Could A Strip Club Possibly Go Wrong?
So far my big Japan Sex Adventure has been a highly entertaining failure. There have been antics, hijinks, and misadventures, but no successful encounters with anything really sex-y. Perhaps I should have done research before hand, but the blind exploration is usually half the fun. We make our way to the main street and look for a bar, figuring a drink or two might help somehow. I spot the couple...
5 tags
The Big Fat 0
I can't remember when or how I first heard about Tokyo Love Hotels. It could have been the title of a film I never sat still long enough to watch. I could be remembering an imaginary sexy doppelganger of Mr. Ramone's Chelsea Horror Hotel. Likely though, this knowledge came from the internet. Before the term social networking entered the public lexicon, the internet seemed to be made...
6 tags
Super Kowai Kawaii Maid Cafe…. Of Doom
Kowai means scary. Kawaii means cute. The phonetic similarity evokes the way a lion cub can be adorable even though it is capable of ripping your face off… or how visual indicators of cuteness can be heightened out of all proportion and end up slightly terrifying. There are Japanese girls dressed as maids in the streets of Akihabara. While I'm sure some of them are dressed as maids for the...
7 tags
They Call It The Pink Trade Here
Akihabara is full of electronics and anime. It's the Tokyo that American fans of manga imagine, home to the world's first dedicated robot store and covered in signs depicting cartoon girls with giant eyes and inhuman waist to hip ratios. Epileptic fit-inducing displays of flashing lights lure customers into shops full of electronics and raw materials for customization or building...
5 tags
Dear Internet:
Earlier this month I was given the opportunity to guest edit Fleshbot.com. They're a great website run by an amazing woman, and have given me a ton of support and press throughout my career. When I was asked to host the Fleshbot Awards and write for the site during the week leading up to the event, I immediately said yes. The show went fantastically, the writing went over well and one series...
5 tags
December 2011 East Coast Tour Schedule with the...
This time around the cast features: Miss Heather Holliday (The host of the new MTV show MTV Iggy) Lil Miss Firefly "The Midget of Mischief" go-go Amy (featured in the November issue of Rebel Ink Magazine) Stoya (Digital Playground contract star and recently named by Howard Stern "the world's strongest naked women") Donny Vomit "The Dapper Dan of Danger" and Musical Guest Mr....
6 tags
I met Buck Angel...
… and Ellen Stagg took some amazing photographs of us. You can see the rest on (nsfw) Fleshbot.com If you haven't yet heard of Buck and want to learn more, please allow me to encourage you to visit his website.
7 tags
2011 Exxxotica New Jersey Schedule
As always, subject to change due to weather, my whims, or glitter-in-eyeball disasters: Friday Nov 4th 5:30 pm - 8:30 pm Signing at the Club Spotlight booth 9:45 pm Pretty Things Peepshow performance (main stage) 10:30 pm - 11 pm Signing at the Club Spotlight booth Saturday Nov 5th 12 noon - 7 pm Signing at the Club Spotlight booth 8:30 pm Pretty Things...
Mission Accomplished.
It's kind of like a picture of my breast, except it's technically SFW. The Tokyo mass transit system really isn't so complicated as long as one remembers to look at the *name* of the line as opposed to just the *color* of it. I have at least another four hours of rhinestone application ahead of me, and my brain is already foggy from the glue fumes. I really must look into...
Road To... Johannesburg.
The hotel was a pseudo-Tuscan themed gated compound with barbed wire and electric fencing on top of the walls. Upon arrival, we were cautioned not to walk across the street at night. The next morning a tour guide picked us up and immediately warned us not to leave the hotel on foot. Later he encouraged us to walk into a cage with a golden retriever sized lion cub and invited us to rub him on the...